"Not being able to find coupler boxes (N scale), I started using plastic shapes. I take a square tube that seems to fit the coupler (such as Bachmann EZ II), and cut it down the middle with a hobby saw. Then it is just a matter of fitting on the floor of the car, drill to clear whatever size screw I am using, (already have drilled & tapped the floor), tighten securely, and all done. Except for painting, of course.
Have done this on more than a dozen car now, and seems to work just fine. Trying to work through all to convert to body-mounted couplers.
First, cut square tubbing down the middle. Select the size that best fit your couplers, allowing for movement.
Then drill for screw… will be "clear" size for your mounting screw.
Insert screw and coupler (here, a EZ II coupler), and mount into the tapped hole in the floor of the car. Add shims if required for proper height.
Hope this helps someone.
Al Lyons"
---
"I have a 40 year-old 6ft x4 ft N gauge layout, which I'm about to resurrect. Plenty of good track, rolling stock and scenery. Sort of European 1930s era…but it's all about to be freshened up, some replaced, and added to.
My tip is for the hills/ mountains. Try to get a surfboard blank – they are about 6 inches thick (15cm) , rigid , dense, fine cell foam. It can be carved with a bread knife, sander or similar, painted, and holds trees and posts without needing reinforcement. You can even mount track directly on it with short nails to hold the sleepers down. Has plenty of strength to be self-supporting. Could even be used for buildings if you have the carving skills.
I also use coarse sawdust for ballast. It can be glued using straight white glue – apply the glue sparingly and sprinkle it on. It sometimes comes pre-coloured, and not all ballast is black, so you can buy your preferred pre-coloured sawdust, or paint it with water based paint afterwards. Other advantages are that it is not abrasive to delicate train components, and non-conductive – so no electrical shorts, especially around points.
Water – a layer of white glue dries clear –works if the river bottom is painted a preferred colour first. Clear 2-part epoxy also gives good results, as does clear polyurethane. Colour the underlying river-bed before you do the water for better realism. The colour has to dry first, and not be reactive to the clear coating.
Regards,
Terry"
---
Big thanks to Al and Terry for sharing. Please do keep them coming!
That's all for today peeps.
Don't forget the Beginner's Guide is here is today is the big day when you make a start.
Best
Al
PS Latest ebay cheat sheet is here.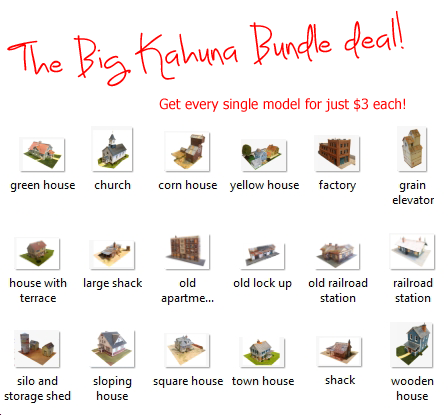 Al