Got another one from the archives today – it's a great use of space.
"Hi,
Steve's recent "Sofa Layout" was an excellent illustration of using available space if you don't have a basement or a loft. Garages are often too crowded. I live in the countryside & don't have either & my workshop/shed is too dirty for a model railway.
My solution was to buy an old caravan which I park next to the house. At 150 pounds it was cheaper than a new shed. It is waterproof, dustproof and has tons of cupboard space. I took out the beds etc and put in some light worktops.
I was able to build a layout 14 feet long down one side, 6 feet across the top and 8 feet down the other side with room for a small workbench at the other end.
Here are some pictures if you are interested.
Baobab Junction in the Kabanga Enclave, between Rhodesia, Zambia & Botswana where the Mwena RIver runs into the Zambesi.
( this way I can run US, UK & European locos & rolling stock all given as Gift Aid to this remnant of colonial Africa).
Please keep up the great site.
Thanks to all the contributors.
D"
---
How impressive is that! I loved it. Well done to Duncan. Just goes to show, where there's a will, there's a way…
Latest 'ebay cheat' sheet is here.
Best
Al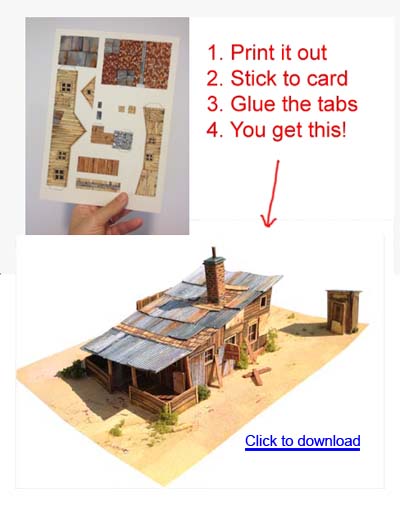 A video showing what you can make from the printable scenery: