After Arnie's wonderful video and pics on his lighting, I thought it fitting to post this sent in by Craig:
"Al: I have been getting your e-mails for some time now. They are great and I look forward to them. But up to now, I have been a taker, not a giver.
I found an inexpensive way (OK, cheap) to make yard lights. I wanted to share.
Street lights cost upward of $10 each. I did find some that were about $10 for 2 lamps on posts. Still expensive if you need several of them.
I want to share a new way to get street lights with the guys. I ordered 20 of these building lights. Peel and stick type. They were $18+ for 20 of them and they had Grain of Wheat sized LED's.
I used the light that came in the peel and stick lamps and they were good for yard lights but a bit too big for outside building lights.
So I used the Grain of Rice LED's in place of the lights that came with the peel and stick fixture and came up with some good building lights for a service station or grocery store loading dock, for instance. Here's the process:
Take the peel and stick lights and remove the sticky pad. The light slips easily out of the housing. Cut off a portion of the housing as shown on the photo.
You come up with a funnel shaped thing and a straight collar shaped thing. There is an inner collar in the light housing.
Either use a large drill bit and rotate the drill bit by hand to slowly shave away this inner collar, or use a #11 blade and rotate it until it trims this collar down to a fine edge so that it will accept the lamp and thread the light back in the opposite way it came out and glue it in place.
Paint the housing inside white or silver to reflect the light back, or leave it black.
Paint the outside a color that would go good with where it will be mounted: maybe gray for an industrial area, green for a store loading area or maybe silver for residential street lamps.
I drilled a hole in a skewer (saw this in a recent issue of Model Railroader Magazine) and threaded the wires through the hole, painted the skewer to look like a light pole and mounted one outside a line shack. The one pictured with three lamps will go in the train yard.
I also cut the funnel a little shorter and mounted it to the outside of a service station off of a piece of styrene channel I had left over from a project. It passes.
Just a note about the post with the three lamps: I cut the wires off two of them and wired them to the third set of wires. I used tape and don't like it. Maybe shrink tubing would work better to hold them together??
In any case, the wires that come with the peel and stick lamps are long enough to run them to a nearby building then down to wherever you are going to connect them to your power source. The grain of rice LED's only have a few inches of wire with them.
Be very careful when trimming the insulation from these lights. There are not many strands of wire and it is very easy to cut these small wires, and you need them all.
I have been a rail fan since I was a boy, and recently got into model railroading, HO scale. I bought a cookie cutter benchwork and have spent the last three years adding terrain and scenes. I'm a first-timer, but if you are interested in seeing some of my mistakes, I can share the photos.
Craig in Utah (That would be the USA: I see from looking at your layouts that many of you are driving on the wrong side of the street) :)"
That's all for today folks.
Please do keep 'em coming.
And if you want to make that start – just like Craig and all the others did – the Beginner's Guide is here. And for the next few days it's just $9.
Best
Al
PS Latest ebay cheat sheet is here.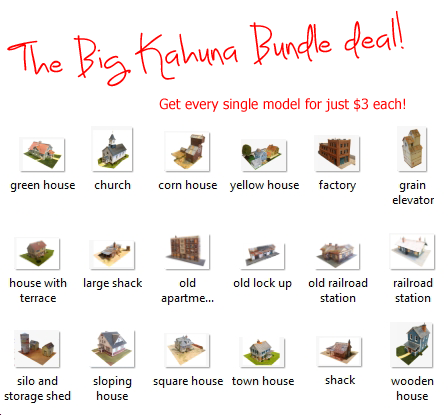 7